Quick lunch… quick result…
September 5, 2013 9:30 am
The Terrace Hotel is a hotel, bar and restaurant located on St George's Terrace in the heart of Perth's CBD.
The corporate lunch market is a large segment of business for The Terrace Hotel – they offer a $25 special of 5 lunch choices including a glass of wine, beer or coffee.
Promotion of the "Quick Lunch at The Terrace Hotel" has been an on-going strategy across multiple channels based on building awareness of the offering. The menu was recently updated and we were given the task to spread the word across social media channels and ultimately drive sales.
Previous contests for The Terrace Hotel were focused on gaining likes for the Facebook page so we decided to implement a twitter-specific promotion to gain followers and increase awareness of the new quick lunch menu; five Quick Lunch vouchers would be given away through a RT and follow campaign.
Five tweets were used. The Terrace Hotel trended locally in Perth and nationally in Australia for over 3 hours after the first two.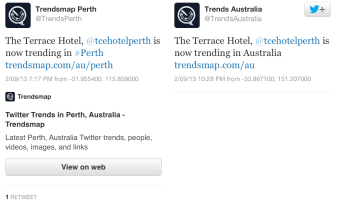 This campaign resulted in an increase of 90 followers; there were 179 retweets and 9 favorites spread over 5 tweets of 2 messages. We reached over 70,000 accounts and had over 154,000 impressions.
While there is no guaranteed formula to get a tweet or topic trending, a successful tweet can be broken down into simple elements that should be included.
Content
It is important to stay well under the 140 character mark so that you can be retweeted. Motivate your readers to engage with your content and don't abbreviate or use slang.
Hashtag
Be part of the conversation and introduce your tweet to potential followers – competitions in Perth use #perthwin to spread awareness.
RT & Follow
Statistics show that tweets that ask to be RT, are. In the case of the competition, we asked them to RT and follow to enter which created a viral effect.
Do you want to keep reading about our work with The Terrace Hotel? Check out the #SocMedSleepover.
Coffey & Tea is Western Australia's leading social media agency dedicated to the tourism and hospitality industry. We work with brands throughout WA to help their voice be heard.
If you're interested in finding out more about how our social media services at Coffey & Tea can help your brand, please get in touch today.