Case Study: Missy Moos Gourmet Burger Bar
August 8, 2014 7:01 pm
Coffey & Tea was engaged by gourmet burger bar Missy Moos in February 2014 to build brand awareness and customer base around its two outlets in Mt Hawthorn and South Fremantle.
We undertook a brand audit and provided Missy Moos with a full service marketing and social media package to boost the company's online presence and more importantly, its bottom line.
Social media is about conversations, not the one-way broadcast of ideas and we used our expertise to engage users, increase page views, and build a user relationship by make interesting posts on Facebook and Instagram and incorporate engaging content to elicit a user response and heighten interaction.
Our social media analysis provided a breakdown of trends and where the company needed to be more active.
We merged the company's two Facebook pages (one for each store) into a central brand page and refined Missy Moos' overall corporate message to one that was simple and genuine: "Gourmet burgers made fresh to order with premium local ingredients and lots of love and attention". The individual identities of the two stores were however retained, with messages such as: "In South Freo? Take-away your burgers and enjoy South Beach which is just a stone's throw away! Call us on 9433 3322" and "In Mt Hawthorn? Entertain the children with the playground of The Mezz! Call us on 9444 8590".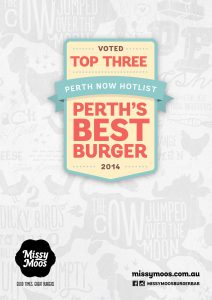 By engaging with highly-respected Perth food bloggers, we secured positive reviews from Foodie Cravings and Perth Munchkin, reference in the Western Suburbs Weekly. PerthNow readers voted it third in a 'Perth's Best Burgers' poll – only possible because of its increased profile and social media presence and engagement with potential and regular customers.
All this was supplemented by liaising with graphic designers for branding, organising photo shoots, creating consistent and fun marketing collateral. Knowing how important any business's community is, Coffey & Tea used its role on the Mt Hawthorn Hub Committee as leverage to benefit the interests of Missy Moos, worked with the company's landlord to establish cooperative marketing programs and established a highly successful sponsorship deal with Mt Hawthorn Cardinals JFC.
By the end of the contract, we had generated more than 4000 'likes' on Missy Moos' Facebook page, an increase of 74% and 1909 new followers. Average Facebook Engagements were heightened by 133% and Average Daily Reach increased by 173%. Coffey & Tea also dramatically improved Missy Moos' Instagram presence. With a baseline of 323 followers, that number improved by 209% with 677 new followers. Through productive and engaging Instagram content, we were also able to generate a 52% increase of average post likes.
Social media is incredibly powerful and particularly successful at increasing turnover and it can often cost very little or nothing at all. Coffey & Tea gave Missy Moos the tools to move forward themselves, combining social media savvy with a cohesive branding and marketing strategy, demonstrable outcomes and a bunch of smart ideas to keep them at the top of their game.
Do you want to keep reading? Check out – Case Study: X-Wray Café
If you're interested in finding out more about how our social media services at Coffey & Tea can help your brand, please get in touch today.